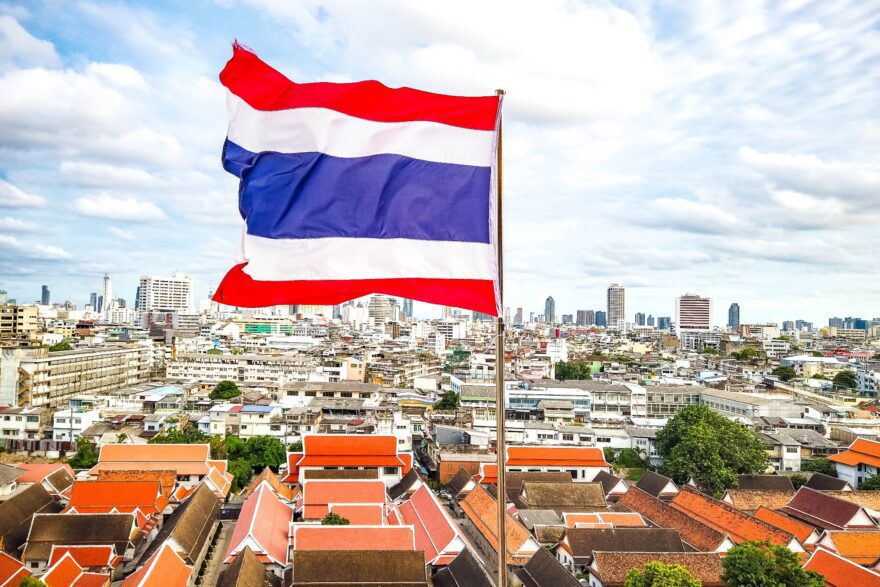 Thailand has doubled its year-on-year importation of wines in July to 120 million baht (US$3.7 million).
The increased importation is still within the context of a recovering Thai economy amid the global Covid-19 pandemic. So far in 2021, the country imported a total of 914 million baht wines, 4% higher compared to January-July 2020.
Data from Thai Customs showed that the uptick in importation was mostly lifted by the rise in the importation of Australian wines, rising by 371% to 40.8 million baht.
Australian wine exporters are redirecting products from China to other markets to escape the impact of damaging tariffs of up to 215%.
France, which was Thailand's top import source in June, fell to second place. The country bought 39.5 million baht worth of French wines in July, climbing by 236% over the same month last year.
Italian wines that entered the Thai ports jumped more than twice in value to 12.6 million baht over last year's level, while Chilean wines have more than doubled to 9.8 million baht.
Among the top 5 import sources, only imported wines from the US saw a decrease in the month, declining by 66% to 8.3 million baht.
In terms of bottled wines, Thailand imported 124% more sparkling wines over last year.
There were twice more imported bottled wines of 2 liters or less worth 106.4 million baht compared to the previous year, while there were 11,770 baht bottled wines of over 2 liters imported in the month, unlike the same period in the past year.
Thailand's Top 5 Wine Import Sources in July 2021 vs July 2020
| | | | | |
| --- | --- | --- | --- | --- |
| Rank | Country | Value in 2021 | Value in 2020 | % Change |
| 1 | Australia | 40,819,329 baht | 8,662,010 baht | +371% |
| 2 | France | 39,454,431 baht | 11,759,459 baht | +236% |
| 3 | Italy | 12,633,262 baht | 5,369,229 baht | +135% |
| 4 | Chile | 9,760,611 baht | 3,632,960 baht | +169% |
| 5 | US | 8,306,087 baht | 24,157,180 baht | -66% |
| | Total | 119,976,896 baht | 59,222,225 baht | +103% |
Source: Thailand Customs
Bottled Wine Categories in July 2021 vs July 2020
| | | | |
| --- | --- | --- | --- |
| Wine Category | Value in 2021 | Value in 2020 | % Change |
| Sparkling | 9,929,972 baht | 4,436,515 baht | +124% |
| In containers holding 2L or less | 106,386,126 baht | 52,028,553 baht | +104% |
| In containers holding more than 2L but not more than 10L | 11,770 baht | 0 baht | |
Source: Thailand Customs
Thailand's Top 5 Wine Import Sources 2021 Year to Date
| | | | | |
| --- | --- | --- | --- | --- |
| Rank | Country | Value in 2021 | Value in 2020 | % Change |
| 1 | Australia | 341,729,381 baht | 213,252,324 baht | +60% |
| 2 | France | 219,254,063 baht | 287,030,980 baht | -24% |
| 3 | Chile | 105,075,520 baht | 95,832,732 baht | +10% |
| 4 | US | 99,478,147 baht | 107,618,252 baht | -8% |
| 5 | Italy | 80,224,229 baht | 80,871,192 baht | -1% |
| | Total | 914,488,526 baht | 883,451,538 baht | +4% |
Source: Thailand Customs
Bottled Wine Categories Year to Date
| | | | |
| --- | --- | --- | --- |
| Wine Category | Value in 2021 | Value in 2020 | % Change |
| Sparkling | 54,691,958 baht | 111,721,798 baht | -51% |
| In containers holding 2L or less | 813,339,916 baht | 708,107,706 baht | +15% |
| In containers holding more than 2L but not more than 10L | 965,943 baht | 2,433,246 baht | -60% |
Source: Thailand Customs