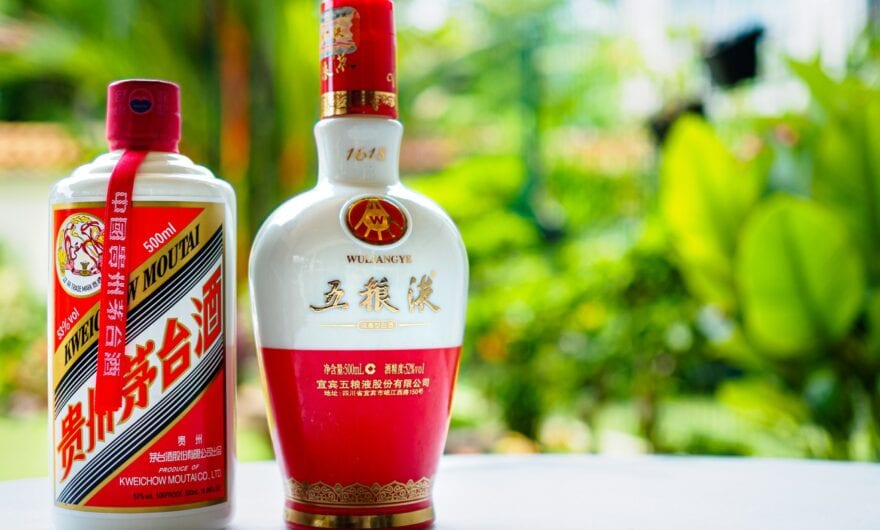 Chinese Baijiu brands dominated Brand Finance's list of the world's top 50 most valuable spirits brands in 2021. 
Moutai, the Baijiu brand of partially state-owned Kweichow Moutai, tops the list as it sees a 15% growth in brand value to US$45.3 billion. The brand is currently working on increasing its direct sales channels to cushion the impact of the Covid-19 pandemic on its revenues, which recently fell to a five-year low. 
Sichuan province-based Wuliangye came in second with a brand value of US$25.8 billion this year, up 24% from last year. Yanghe, Luzhou Laojiao and Gujing Gong Jiu complete the top five.
The report also noted Jiugui Jiu's "staggering" increase in brand value of 96% to US$760 million, placing it in the 28th spot.
Baijiu, which translates to "white spirits," is usually distilled from sorghum and other grains, including rice, wheat, corn and millet.
Total Spirits Brands Value
According to Brand Finance, the total value of the world's top 50 most valuable spirits brands went up 5% to US$135.9 billion this year. Brand value refers to the "present value of earnings specifically related to brand reputation."
China is recognized as the largest spirits market in the world. "Although we are beginning to witness a rise in popularity of international spirits across the country, the nation's traditional Baijiu spirit still dominates on home soil," Richard Haigh, managing director of Brand Finance, said.
Moreover, Diageo's Don Julio is 2021's strongest spirits brand with a Brand Strength Index score of 88.8 out of 100 and an AAA rating. Brand Strength is the "efficacy of a brand's performance on intangible measures, relative to its competitors."
According to the report, Don Julio has kept its brand authenticity and maintained the same processes and quality since 1942. Last year, it launched its biggest marketing campaign to date and posted "strong" sales, helping offset losses in other brands of its parent company.
Chile's Concha y Toro Now Among Top 10 Champagne and Wine Brands
Meanwhile, Brand Finance also reported that the total value of the world's top 10 most valuable champagne and wine brands declined by 10% to US$6.7 billion in 2021. This was attributed to the effect of the global pandemic which led to closures of hospitality venues and restricted socialization.
The report saw the entry of Chilean wine brand Concha y Toro in 10th place with a brand value of US$293 million. The brand saw a "sizeable" uptick in sales, especially in Europe, last year. In the first quarter, its revenues climbed by 8.2% to around US$232.3 million.
"With plans to focus on its premium brands portfolio and further expand its Casillero del Diablo range, Concha y Toro is showing no signs of slowing down in the coming year," the report said.