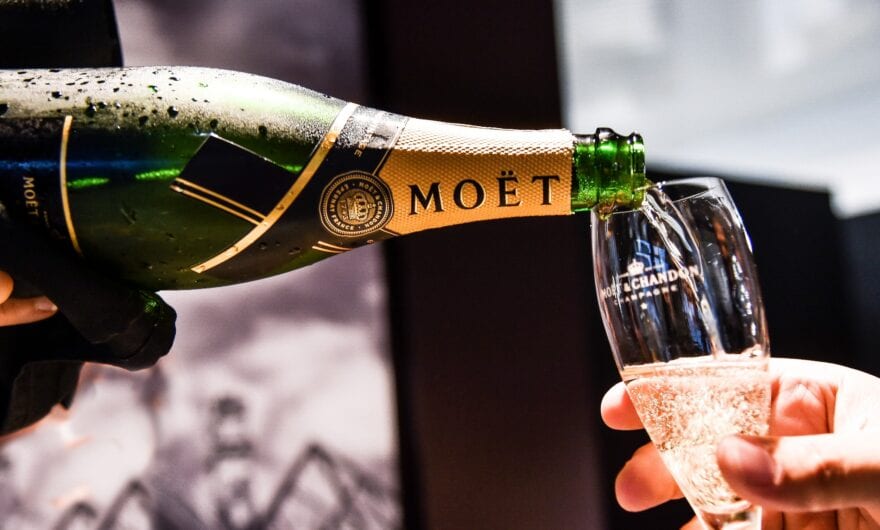 Moët & Chandon of French conglomerate LVMH still holds the top spot in the latest ranking of the world's most valuable champagne and wine brands. 
According to Brand Finance, Moët & Chandon maintained its position for two consecutive years despite seeing its brand value drop by 11% to US$1.2 billion in 2021. Brand value refers to the "present value of earnings specifically related to brand reputation."
The fine wine brand is also the strongest champagne and wine brand in the world with a Brand Strength Index score of 77.9 out of 100 and AA+ rating. Brand strength is the "efficacy of a brand's performance on intangible measures, relative to its competitors."
"Despite Moët & Chandon recording a drop in brand value, the brand has benefited from its positive image as an instantly recognisable luxury product. This places Moët & Chandon in an excellent position to benefit from its favourable reputation in order to navigate the fallout from the Covid-19 pandemic over the coming year," said Brand Finance Managing Director Richard Haigh. 
Among the top 10 champagne and wine brands, only Dom Pérignon posted growth in brand value this year, increasing by 2% to US$820 million. The vintage champagne is also owned by the champagne house of Moët et Chandon.
The public had its eye on Dom Pérignon last year as it featured Lady Gaga and Nicola Formichetti in a campaign.
Meanwhile, Concha y Toro, Chile's largest wine producer, is a new entrant to Brand Finance's ranking, placing itself in the 10th spot with a brand value of US$293 million. The brand saw a "sizeable" uptick in sales in 2020, especially in Europe. In the first quarter, its revenues climbed by 8.2% to around US$232.3 million.
This year, the total value of the world's top 10 most valuable champagne and wine brands fell by 10% to US$6.7 billion as the Covid-19 pandemic dragged down consumption and shuttered hospitality venues.
Brand Finance's Champagne & Wine 10 2021 Ranking
| | | |
| --- | --- | --- |
| Rank | Brand | Value |
| 1 | Moët & Chandon | $1.225 billion |
| 2 | Changyu | $1.174 billion |
| 3 | Veuve Clicquot | $855 million |
| 4 | Chandon | $827 million |
| 5 | Dom Pérignon | $820 million |
| 6 | Barefoot | $509 million |
| 7 | Lindeman's | $367 million |
| 8 | Beringer | $300 million |
| 9 | Martini | $295 million |
| 10 | Concha y Toro | $293 million |
Source: Brand Finance