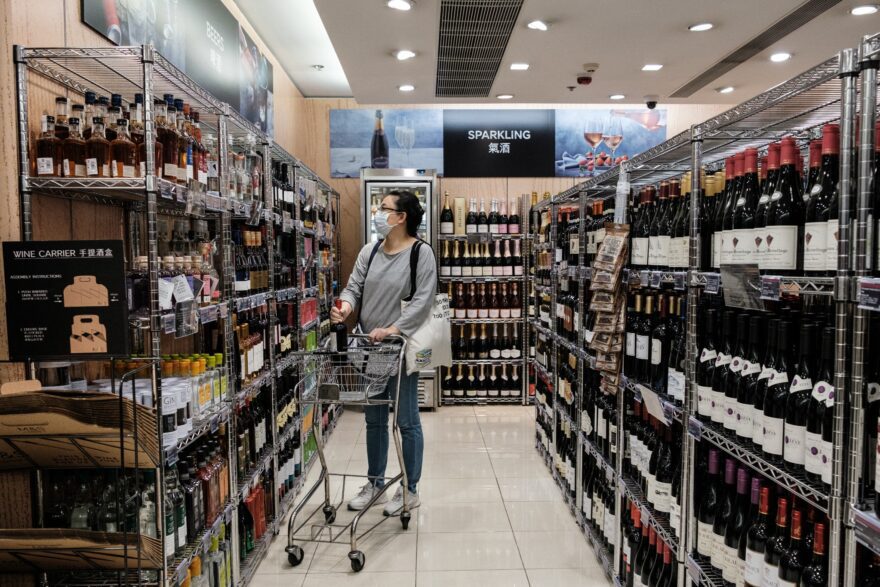 Hong Kong raised its wine importation in the month of August by almost half over the value recorded in the same month a year ago.
Based on recent data from Hong Kong's Census and Statistics Department, overseas wines that entered the region's ports climbed to HK$861 million in value.
French wines remained the monthly top exporting country, delivering HK$537 million wines in August or a 34% growth over the previous year.
Australian exporters, which were reportedly using Hong Kong as a backdoor to the larger Chinese market, have brought HK$151 million worth of wines, over three times larger than the export value seen last year.
There were also increased importations of wine from the UK, US and Italy, completing the list of Hong Kong's top 5 wine exporters in the month.
It is worth noting that in terms of bottled wine categories, Hong Kong only saw an uptick in the importation of red wines in August, which rose by 59% to HK$761 million.
There were decreases in the value of imported champagnes, white wines, ports and sherries relative to the value posted in the same month in the past year.
So far in 2021, Hong Kong has bought 56% more wine imports worth HK$7 billion compared last year.
Hong Kong's Top 5 Wine Exporters in August 2021 vs 2020
| | | | | |
| --- | --- | --- | --- | --- |
| Rank | Country | Value in 2021 | Value in 2020 | % Change |
| 1 | France | HK$537,486,000 | HK$402,307,000 | +34% |
| 2 | Australia | HK$151,071,000 | HK$44,996,000 | +236% |
| 3 | UK | HK$73,362,000 | HK$52,535,000 | +40% |
| 4 | US | HK$27,271,000 | HK$21,067,000 | +30% |
| 5 | Italy | HK$23,706,000 | HK$18,244,000 | +30% |
| | Total | HK$861,301,000 | HK$583,562,000 | +48% |
Source: Hong Kong Customs
Bottled Wine Categories in August 2021 vs 2020
| | | | |
| --- | --- | --- | --- |
| Wine Category | Value in 2021 | Value in 2020 | % Change |
| Red | HK$761,095,000 | HK$479,350,000 | +59% |
| Champagne | UHK$53,310,000 | HK$57,666,000 | -8% |
| White | HK$38,296,000 | HK$39,821,000 | -4% |
| Port | HK$332,000 | HK$489,000 | -32% |
| Sherry | HK$6,000 | HK$39,000 | -85% |
Source: Hong Kong Customs
Hong Kong's Top 5 Wine Exporters YTD 2021 vs 2020
| | | | | |
| --- | --- | --- | --- | --- |
| Rank | Country | Value in 2021 | Value in 2020 | % Change |
| 1 | France | HK$4,415,534,000 | HK$2,925,021,000 | +51% |
| 2 | Australia | HK$1,176,254,000 | HK$436,417,000 | +170% |
| 3 | UK | HK$516,854,000 | HK$423,733,000 | +22% |
| 4 | US | HK$248,425,000 | HK$260,898,000 | -5% |
| 5 | Italy | HK$190,505,000 | HK$133,486,000 | +43% |
| | Total | HK$7,048,541,000 | HK$4,521,042,000 | +56% |
Source: Hong Kong Customs
Bottled Wine Categories YTD 2021 vs 2020
| | | | |
| --- | --- | --- | --- |
| Wine Category | Value in 2021 | Value in 2020 | % Change |
| Red | HK$6,202,883,000 | HK$3,990,426,000 | +55% |
| Champagne | HK$471,813,000 | HK$304,369,000 | +55% |
| White | HK$303,727,000 | HK$190,296,000 | +60% |
| Port | HK$4,811,000 | HK$2,676,000 | +80% |
| Sherry | HK$613,000 | HK$276,000 | +122% |
Source: Hong Kong Customs