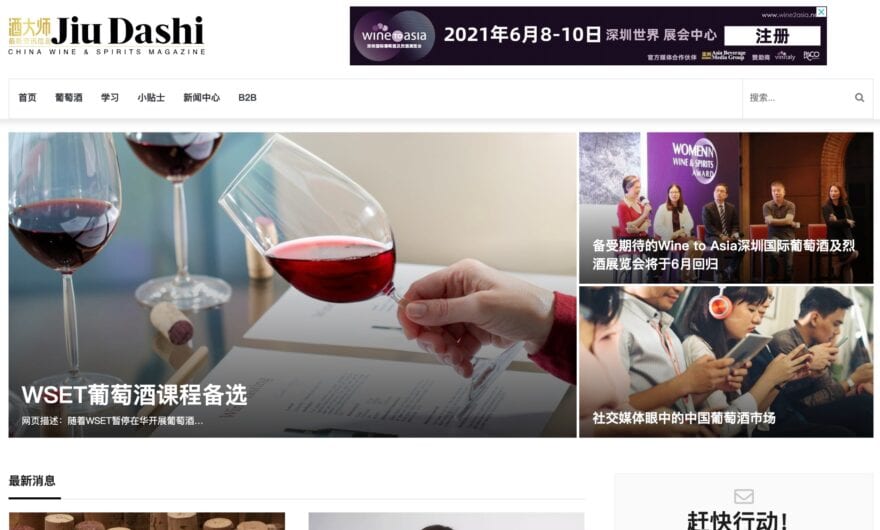 Jiu Dashi, the newest wine and spirits magazine in China, has come online to bring the latest news and offer the best advice from leading industry figures to every Chinese wine and spirits lover.
Launched this May, Jiu Dashi, which means "master of alcoholic drinks," is the latest addition to Asia Beverage Media Group's line of rising online publications that serve readers across Asia and the Pacific.
The platform complements the existing infrastructure of Asia Beverage Media Group to help wine and spirits brands enter the Chinese market, expand their presence and increase sales.
Exclusive content, efficient access
Hosted in Mainland China to guarantee optimal performances, the new site offers exclusive content in both Chinese and English languages for consumers and industry professionals. With an expanded reach through Chinese social channels, including WeChat, Weibo, Toutiao, and Bai Jia Hao, it offers a good basement for Brands to publish press releases and branded stories.
With a suite of digital services, including influencer marketing, e-commerce, social media accounts management and offline activation like masterclasses and wine tastings, Asia Beverage Media Group is now fully equipped to support brands level up their business in China. 
Follow Jiu Dashi on WeChat