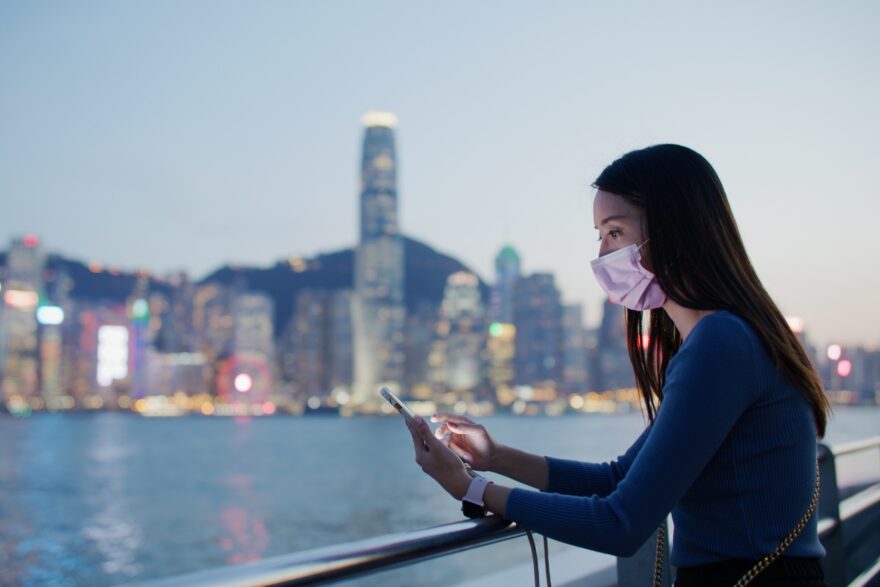 Wine imports in Hong Kong in the first three months of 2022 declined in value by 27% as the fifth wave of coronavirus infections restricted mobility and shut drinking venues.
Data from the Census and Statistics Department showed that about HK$1.9 billion worth of wines from international sources entered the city between January and March.
The decline in wine imports came as the city is fighting a new wave of COVID-19 infections that began in February and peaked sometime in early March.
Much of the decrease was recorded in its top import, French wines, which value fell by 27% to HK$1.2 billion.
In the quarter, Australian wines saw a 32% slump to HK$270 million while wines from the United Kingdom and the United States also slid by 4% and 25%, respectively.
Only wines from Italy saw growth, albeit minimal, at HK$60 million.
In terms of wine categories, both imported red and white wine bottles dropped in value by 28% and 6%, respectively.
Champagne bottles were down 26% while bottles of port took a 36% dive. Imported sherry bottles increased slightly by 5%.
In March alone, Hong Kong's wine importation fell by almost 40% to HK$510 million.
Hong Kong's Top 5 Wine Exporters in Q1 2022 vs Q1 2021
| | | | | |
| --- | --- | --- | --- | --- |
| Rank | Country | Value in 2022 | Value in 2021 | % Change |
| 1 | France | HK$1,156,894,000 | HK$1,593,125,000 | -27% |
| 2 | Australia | HK$270,399,000 | HK$395,556,000 | -32% |
| 3 | United Kingdom | HK$159,036,000 | HK$166,248,000 | -4% |
| 4 | United States | HK$60,286,000 | HK$80,326,000 | -25% |
| 5 | Italy | HK$59,875,000 | HK$58,796,000 | +2% |
| | Total | HK$1,853,374,000 | HK$2,531,105,000 | -27% |
Source: Hong Kong Customs
Bottled Wine Categories in Q1 2022 vs Q1 2021
| | | | |
| --- | --- | --- | --- |
| Bottled Wine Size | Value in 2022 | Value in 2021 | % Change |
| Red | HK$1,618,274,000 | HK$2,249,999,000 | -28% |
| Champagne | HK$109,226,000 | HK$147,781,000 | -26% |
| White | HK$103,730,000 | HK$110,935,000 | -6% |
| Sherry | HK$295,000 | HK$281,00 | +5% |
| Port | HK$1,165,000 | HK$1,821,000 | -36% |
Source: Hong Kong Customs
Hong Kong's Top 5 Wine Exporters in March 2022 vs 2021
| | | | | |
| --- | --- | --- | --- | --- |
| Rank | Country | Value in 2022 | Value in 2021 | % Change |
| 1 | France | HK$351,025,000 | HK$584,934,000 | -40% |
| 2 | Australia | HK$46,346,000 | HK$74,314,000 | -38% |
| 3 | United Kingdom | HK$33,612,000 | HK$67,584,000 | -50% |
| 4 | United States | HK$16,868,000 | HK$31,050,000 | -46% |
| 5 | Italy | HK$16,806,000 | HK$15,681,000 | +7% |
| | Total | HK$509,579,000 | HK$833,659,000 | -39% |
Source: Hong Kong Customs
Bottled Wine Categories in March 2022 vs 2021
| | | | |
| --- | --- | --- | --- |
| Bottled Wine Size | Value in 2022 | Value in 2021 | % Change |
| Red | HK$420,751,000 | HK$745,329,000 | -44% |
| Champagne | HK$53,938,000 | HK$38,143,000 | +41% |
| White | HK$26,434,000 | HK$42,653,000 | -38% |
| Sherry | HK$31,000 | HK$84,000 | -63% |
| Port | HK$502,000 | HK$324,000 | -55% |
Source: Hong Kong Customs